Oftentimes, making connections to others is difficult for children with autism. In some cases, the child may also have difficulty in processing sensory information. This difficulty can result in children being overly concerned with certain activities or so sensitive to others that they will not attempt them. Although not all children with autism experience an appreciable degree of sensory processing differences, when they do it can be challenging to support that child. It may be helpful to use these sensitivities/preferences to create activities that are interactive. Once a child is interacting, it becomes possible to then build upon that moment by getting them used to a safer or broader range of input. Please find the book lists below helpful and as you look through it, keep the following in mind:
Human senses are often broken into 5 areas: sight, hearing, taste, touch, and smell. There is also the sense of proprioception (awareness of body position) and the vestibular system (tells us where we are in relation to gravity i.e. upside-down). Imagine, for instance, if you could not tell where to place your feet in order to walk because you could not feel the ground.
When sensory related behavior occurs it can be due to either an over-reactive, or under-reactive response to sensory input. Sometimes, sensitivity may be referred to as hypersensitive (very sensitive - will want less of something) or hyposensitive (less sensitive - will seek more of something). An over-reactive sensory system creates children who are very sensitive and thus often flee from or reject specific sensory input. This can lead to children not being able to interact with their environment in a typical manner. An under-reactive sensory system creates children who are input-seeking. This may lead to a child unintentionally causing self-harm in the process of seeking that input.
Understanding the role of the sensory system in the daily lives of young children with autism is essential to creating safe and reinforcing environments for them. Even though it may be tempting to create a sheltered sensory environment, we must prepare children for the future. What this means is that supports and modifications are useful tools for a starting point, but to always be working towards that child becoming more independent. Furthermore, all children can learn when what we teach is clear and meaningful to them.
Library Resources
These titles are a selection of the titles in the SESA Library that address sensory strategies for individuals on the autism spectrum. You may search for more titles or for additional titles in the SESA Library catalog: Find Books and More! Search the Library Catalog on the Web
For more information or to request a title, please contact Anne Freitag, SESA librarian, at 907-334-1301, or by email: afreitag@sesa.org.


Answers to questions teachers ask about sensory integration (including sensory processing disorder) / Jane Koomar ... [et al.]. Future Horizons, Inc. ; OTA-Watertown, 2007.
Description: You know them: they can't get their coats on straight, are easily distracted, impulsive, over- or under-sensitive to sounds, lights, textures, etc. In this book, you'll find tried and true instructions for developing their fine motor, "organizing," and motor planning skills, and providing an appropriate "Sensory Diet" that will benefit all your students. Checklists help you identify students who have difficulty processing sensory information. With up to 20% of the students in any given classroom affected by Sensory Integration Disorder, Answers to Questions is an invaluable resource for teachers of pre-school through high school.

Veenendall, Jennifer. Arnie and his school tools : simple sensory solutions that build success / [written and illustrated by] Jennifer Veenendall. Autism Asperger Pub Co, 2008.
Description: Written by a school-based occupational therapist, this book shows a young student describing the simple adaptations he uses to stay comfortable so he can focus and get through the school day.

Myles, Brenda. Asperger syndrome and sensory issues : practical solutions for making sense of the world / Brenda Smith Myles ... [et al.] ; illustrated by Penny Chiles ; foreword by Winnie Dunn. Autism Asperger Pub. Co., c2000.
Description: This book uncovers the puzzling behaviors of children and youth with Asperger's Syndrome (AS). Many of these behaviors have a sensory base and, therefore, are often difficult to pinpoint and interpret. Written in a very reader-friendly style, the book covers the impact of the sensory system on behavior, reviews formal and informal assessment tools, and offers an invaluable set of practical interventions that can be used by parents and educators alike to promote success for children and youth with AS.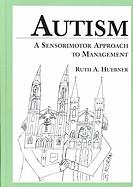 Autism : a sensorimotor approach to management / editor, Ruth A. Huebner. Pro-Ed, c2001.
Description : Presents theoretical and empirical literature on the sensory and motor deficits of autism along with treatment applications of the sensorimotor approach. Emphasizes sensorimotor differences as part of a comprehensive management plan. For occupational
therapists, speech-language clinicians, and psychologists.

Yack, Ellen. Building bridges through sensory integration / Ellen Yack, Shirley Sutton, Paula Aquilla. Subtitle from cover: Therapy for children with autism and other pervasive developmental disorders. 2nd ed. Future Horizons, c2002.
Description: A useful practical guide for professionals, parents, teachers and other caregivers. It presents detailed assessment tools as well as consistent strategies for managing challenging behavior. Successful sensory integration techniques include...advice for a wide range of specific problems...for adapting home, school, and childcare environments...[and] creative suggestions for activities, equipment, and resources.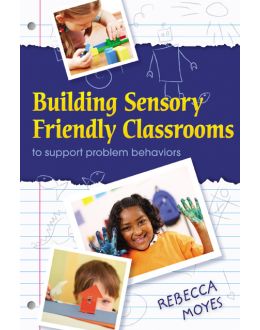 Moyes, Rebecca A. (Rebecca Ann), 1960- Building sensory friendly classrooms to support children with challenging behaviors : implementing data driven strategies! / Rebecca Moyes. Sensory World, c2010.
Description: [The author] helps walk any regular education or special education teacher through the process of setting up a sensory friendly classroom in this easy to use book. … discusses the importance of data driven strategies, and then helps teachers implement them! Sensory integration disorder often presents as a behavioral problem; thus, although it's an internal state, it has to be addressed based on what observable behaviors are seen in the child.

Moyer, Sherry A. The ECLIPSE model : teaching self-regulation, executive function, attribution, and sensory awareness to students with Asperger syndrome, high-functioning autism, and related disorders / Sherry A. Moyer ; foreword by Brenda Smith Myles. 1st ed. Autism Asperger Pub. Co., c2009.
Description: "The ECLIPSE Model targets the skills needed to improve social competence, such as executive functioning, theory of mind, causal attribution, processing speed and working memory. Without effective use of these skills on a regular basis, development of other areas of functioning - academic, adaptive, social and vocational skills - will be inhibited. The ECLIPSE Model directly addresses four challenge areas that are not typically covered by other curricula: self-regulation, executive function, attribution retraining and sensory awareness. These four areas impact almost all activities across environments, and individuals without adequate skills in these areas are unlikely to reach their full potential. The curriculum provides step-by-step lessons for teaching these vital skills in a way that will motivate young people."--Publisher's website.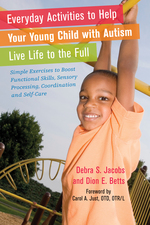 Jacobs, Debra S. (Debra Sue), 1959- Everyday activities to help your young child with autism live life to the full : simple exercises to boost functional skills, sensory processing, coordination, and self-care / Debra S. Jacobs and Dion E. Betts ; foreword by Carol A. Just. Jessica Kingsley Publishers, 2012.
Description: Addresses the challenges that young children with autism face and provides simple ideas, activities, and exercises that will help improve a child's sense of body awareness, coordination, motor skills, and various social challenges.


Getting kids in sync with SAFE* activities [videorecording (DVD)] : *sensory-motor, appropriate, fun, and easy / Sensory Resources. Sensory Resources, c2006.
Description: "Sensory-motor activities to help children develop body awareness & integrate their senses"--Container. Carol S. Kranowitz demonstrates activities that help children of all abilities to develop their bodies and integrate their senses.


Kranowitz, Carol Stock. The Goodenoughs get in sync : 5 family members overcome their special sensory issues / Carol Kranowitz ; illustrated by T.J. Wylie. Sensory World,¬c2010.
Description: "This delightfully illustrated "chapter book," geared for 8-to-12-year-olds, tells the charming tale of five family members and their naughty dog (each with a different sensory processing challenge) and how they get in sync after a tough day. The story itself is in larger print to benefit younger readers. Explanations of sensory processing issues are woven throughout the story in smaller type for proficient readers to linger over at leisure. Everyone with sensory issues will find a character to identify with. Maybe your child is like Darwin, with sensory overresponsivity. Or perhaps you know someone like Betsy and Filibuster, who are sensory seekers."--Publisher's website.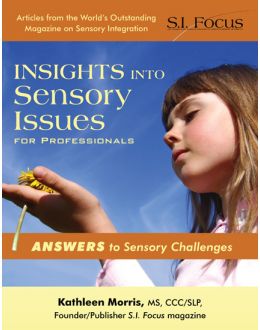 Morris, Kathleen, MS, CCC-SLP. Insights into sensory issues for professionals : outstanding articles from the pages of S.I. Focus magazine / Kathleen Morris. Sensory World, c2010.
Description: "... a compilation of the BEST of life-changing articles aimed at professional readers from the award-winning S.I. Focus magazine … , serving as an international resource to parents and professionals who want to stay informed of how to improve sensory integration and how to address sensory processing deficits. This magazine provides quality information, written by leading people in the field and by parents with insight into the topic. This book's carefully selected articles will help the reader become knowledgeable in the latest research, products, and recommendations by experts from around the globe."--Publisher's website.
Plastino, Lisa. Integrating sensory strategies in the classroom [videorecording (DVD)] / Lisa Plastino. Watson Institute, [2009?] (Watson Institute Series on Autism)
Description: "This presentation provides a definition of sensory processing and behavioral observations of students with problems in this area. It provides examples of adaptations to encourage participation as well as how to incorporate these adaptations into the daily routine."--publisher's website.


Taylor, John F., 1944- Learn to have fun with your senses : the sensory avoider's survival guide / John Taylor ; illustrations by Lynda Farrington Wilson. Sensory World, 2011.
Description: Provides children whose brains react inappropriately to sensory messages and their families with information on the condition and exercises to help improve their ability to use their senses to function in everyday life.
Savner, Jennifer L. Making visual supports work in the home and community : strategies for individuals with autism and Asperger syndrome / Jennifer L. Savner and Brenda Smith Myles. Autism Asperger Pub. Co., 2000.
Description: ... step-by-step directions and accompanying pictures to help families and individuals with autism spectrum disorders create visual supports that work across many settings.


Lashno, Mary. Mixed signals : understanding and treating your child's sensory processing issues / by Mary Lashno. 1st ed. Woodbine House, 2010.
Description: Topics covered include: terminology of sensory processing ; normal vs. abnormal sensory processing ; evaluating your child's sensory system ; assessment tools ; Sensory Integration Therapy--what it is and how it works ; treatment approaches ; establishing and managing your child's sensory diet. This guide is useful to families of children with a variety of diagnoses, deficits, and skills.


Kerstein, Lauren H. My sensory book : working together to explore sensory issues and the big feelings they can cause : a workbook for parents, professionals, and children / Lauren H. Kerstein. Autism Asperger Pub. Co., c2008.
Description: An interactive workbook designed to help children with sensory issues learn how to identify their needs and develop strategies to address them. Also works on children's self-esteem.


Kranowitz, Carol Stock. The out-of-sync child : recognizing and coping with sensory integration dysfunction / Carol Stock Kranowitz. Rev. and updated ed. Perigee, 2005.
Description: Provides an overview of Sensory Integration Dysfunction, discussing how it affects children's behavior; and features criteria and guidance for getting a diagnosis and treatment, as well as advice on how parents can deal with the problem at home.

Biel, Lindsey. Raising a sensory smart child : the definitive handbook for helping your child with sensory integration issues / by Lindsey Biel and Nancy Peske. New York : Penguin Books, 2005.
Description: "... [book] on sensory processing challenges is filled with practical information and real-life solutions including: great sensory diet activities for kids, teenagers, and adults ; techniques for dealing with sensitivity to noise, touch, and other input ; solutions for brushing teeth, dressing, eating, sleeping, transitions and more ; parenting strategies and how to advocate for your child at school ; recommended equipment and toys, complementary therapies, essential resources"--author's website.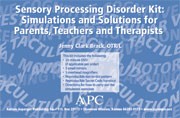 Sensory processing disorder kit [kit] : simulations and solutions for parents, teachers and therapists / Jenny Clark Brack. Autism Asperger Publishing Co., c2006.
Description: Presents basic information about sensory systems along with simple solutions for how to deal with sensory challenges both home and at school.


Arnwine, Bonnie. Starting sensory integration therapy : fun activities that won't destroy your home or classroom! / by Bonnie Arnwine ; illustrated by Olivia McCoy. Future Horizons, c2007.
Description: " ... a great resource for busy parents whose children are starting therapy. Bonnie Arnwine, the parent of a child with sensory processing disorder (also called dysfunction in sensory integration) has packed this book with fun activities, timesaving tips, and quick cleanup techniques. This is a must-have for every family starting sensory-based therapy. You and your child will have days of fun with the activities in Starting Sensory Integration Therapy. Spend quality time on school vacations, weekends, or just a few minutes at the end of a busy day."--Publisher.