These titles are a selection of the titles in the SESA Library that address communication strategies for individuals on the autism spectrum. You may search for more titles or for additional titles in the SESA Library catalog: Find Books and More! Search the Library Catalog on the Web
For more information or to request a title, please contact Anne Freitag, SESA librarian, at 907-334-1301, or by email: afreitag@sesa.org.


Baker, Jed. Social skills training for children and adolescents with Asperger syndrome and social-communication problems / by Jed Baker ; Chapter 2 by Brenda Smith Myles. Autism Asperger Pub., c2003.
Description: "Whether it's learning how long one can look at somebody; how to shift topics, despite one's desire to stick with that all-consuming special interest; how to say no to peer pressure; or dealing with sensitive topic Ð it's all here Ð and more. In this comprehensive and user-friendly book, the author translates years of experience working with students with Asperger Syndrome and social-communication difficulties. After brief introductory chapters on skills to target, instructional strategies, behavior management, promoting generalization, etc., as well as a special chapter by Brenda Smith Myles on relevant characteristics of autism spectrum disorders, the reader is presented with the essence of this must-have resource: 70 of the skills that most commonly cause difficulty for individuals with autism spectrum disorders and social-communication problems. The presentation of each skill consists of a reproducible skill handout, as well as activity sheets listing ways teachers and parents can demonstrate, practice, and reinforce the skill in the classroom and at home. A concluding chapter on promoting peer acceptance offers sensitivity training programs for both students of various age groups and school staff, making this a complete social skills training package for students of all ages."--Publisher's website.

Faherty, Catherine. Communication : what does it mean to me? / Catherine Faherty. Future Horizons, c2010.
Description: "A 'Contract for Communication' that will promote understanding between individuals with autism or Asperger's and their families, teachers, therapists, co-workers, and many more!"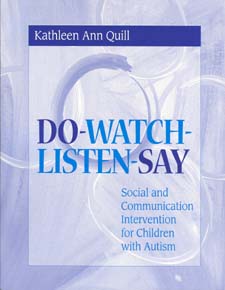 Do-watch-listen-say : social and communication intervention for children with autism / Kathleen Ann Quill ; with invited contributors. Paul H. Brookes Pub. Co., c2000.
Description: "Children with autism pose a perplexing and inconsistent puzzle when it comes to their social skills and communication development. [Describes how to]: apply the new state-of-the-art assessment tool to guide your curriculum for individual students ; discover a range of proven strategies that combine the best of behavioral and developmental intervention practices ; find hundreds of suggested activities to build social play, group skills, and communication in fun and creative ways ; chart your interventions with the easy-to-use data collection forms and guidelines. ... easily adapted to develop a curriculum for both children who are verbal and those who use augmentative and alternative communication, and it can be implemented at home or in the classroom. Excellent for educators and speech language pathologists, this practical, user-friendly resource gives you the methods you need to build social and communication skills in children with autism."--publisher's website.


Winner, Michelle G. Thinking about you, thinking about me / by Michelle Garcia Winner. 2nd ed. Think Social, 2007.
Description: "Teaching perspective taking and social thinking to persons with social cognitive learning challenges"--Cover.
Laus, Marcia K. Encouraging communication skills in the classroom [videorecording (DVD)] / Marcia K. Laus. Watson Institute, [2009?] Watson Institute Series on Autism.
Description: "This presentation provides the communication characteristics of a student with ASD, the essential elements for a classroom to promote communication and examples of how to be a good communicator."--publisher's website.


Ogletree, Billy T. How to use augmentative and alternative communication / Billy T. Ogletree, Thomas Oren. PRO-ED, c2006. (PRO-ED series on autism spectrum disorders)
Description: "This manual reviews AAC applications for individuals with ASD ... AAC is defined and described to provide the knowledge necessary for effective clinical decision-making. Basic facts are overviewed and the impact of AAC on the emergence of natural speech is discussed. In addition, the communicative impairments of persons with ASD are briefly reviewed and the characteristics of ASD that make AAC a logical choice for so many individuals are considered. ... presents a series of recommended practices to help guide parents and practitioners in the establishment and implementation of AAC. ... Throughout this manual there are exercises and questions designed to encourage the reader to apply content in real-world ways. ...a starting point and guide for those interested in using AAC with children and adults with ASD."--PRO-ED website.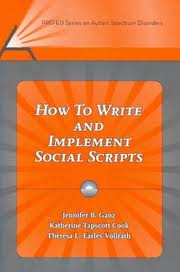 Ganz, Jennifer B. How to write and implement social scripts / Jennifer B. Ganz, Katherine Tapscott Cook, Theresa L. Earles-Vollrath. PRO-ED, c2006. (PRO-ED series on autism spectrum disorders)
Description: "...contains research-based social-script strategies for addressing social, communication, and behavioral skills in individuals with autism spectrum disorders (ASD). Specifically, we provide a description of and research support for each strategy, an explanation of how to implement each strategy, and examples of how the strategies may be implemented across individuals of varying ages and abilities. The strategies covered in this manual include visually represented scripts, stories, and rules. Each is a strategy that requires only basic training to implement correctly, little money and materials, and little time to implement. We believe such strategies are among those most likely to be used by practitioners and those that will most likely be implemented correctly. Additionally, the strategies presented in this booklet are all visually based. That is, each provides the individual with ASD with a picture or written words to clarify instruction. Such visual prompts may be more effective and less invasive than verbal cues. For example, a visual script that a student with ASD can refer to when unsure of an appropriate social greeting serves as a self-prompt, rather than on delivered by a teacher or parent. Such self-provided prompts may be less socially stigmatizing than verbal reminders given by adults or companions when in the presence of peers."--PRO-ED website.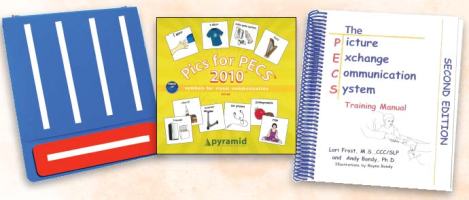 An introduction to PECS [videorecording (DVD)] : the picture exchange communication system / produced and directed by Mountainside Media. Pyramid Educational Products, [2005]
Description: Gives an overview of the potential benefits of using PECS.


Sussman, Fern. More than words : a guide to helping parents promote communication and social skills in children with Autism Spectrum Disorder / Fern Sussman ; illustrations by Robin Baird Lewis. Hanen Centre, c1999.
Description: Presents a step-by-step guide for parents of preschool children with autism spectrum disorders and other social communication difficulties. Shows how to make everyday activities into opportunities for promoting interaction and communication skills.


Bondy, Andy. A picture's worth : PECS and other visual communication strategies in autism / Andy Bondy and Lori Frost. Woodbine House, 2002.
Description: Most young children with autism have significant delays in acquiring communication skills, a hallmark characteristic of autism. But with intensive early intervention and Applied Behaviour Analysis techniques, children can be taught how to communicate successfully, even before they acquire the ability to use speech. This book examines the value of non-verbal communication strategies for children with autism, and presents the Picture Exchange Communication System (PECS) in detail. PECS is a communication system that allows a child to use a picture (or series of pictures) to express his needs and desires without a prompt or cue from another person. The authors co-developed PECS during many years of experience working with children with autism, and now share their expertise in this easy-to-understand guide for parents.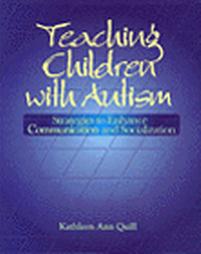 Teaching children with autism : strategies to enhance communication and socialization / edited by Kathleen Ann Quill. Delmar Publishers Inc., c1995.
Description: "This text describes teaching strategies and instructional adaptations which promote communication and socialization in children with autism. It offers specific strategies that capitalize on the individual strengths and learning styles of the autistic child."--Barnes & Noble website.


Visual strategies for improving communication [electronic resource (DVD)] : working with autism and related communication and behavior challenges / with Linda Hodgdon. Title on container: Visual strategies workshop : working with autism and related communication and behavior challenges. QuirkRoberts Pub., c2003.
Description: Accompanying CD-ROM is a collection of supplementary materials including: reproducible handouts for each video program; discussion questions; test questions; plus other support materials. Explains the use of visual strategies to improve communication. Includes samples and examples of strategies proven to work. For teacher-in-service, parent training programs and teacher education programs. System requirements: CD-ROM drive and Adobe Acrobat reader.


Koegel, Robert L., 1944- Pivotal response treatments for autism : communication, social & academic development / by Robert L. Koegel and Lynn Kern Koegel, with invited contributors. Paul H. Brookes, c2006.
Description: " ... Pivotal Response Treatment uses natural learning opportunities to target and modify key behaviors in children with autism, leading to widespread positive effects on communication, behavior, and social skills. The product of 20 years of research ..., this proven approach is now clearly presented in one accessible book. Keeping parents involved in every aspect of behavioral intervention, therapists and educators of children from preschool to elementary school will use the research-supported PRT strategies to: advance children's communication and language skills, even in extremely challenging cases : foster social interactions and friendships with typically developing peers ; reduce disruptive behaviors by combining functional assessment with self-management strategies : aid early identification and intervention ; reduce ritualistic behaviors and broaden children's interests ; improve children's performance in school activities and on homework assignments. Because PRT works with each child's natural motivations and stresses functional communication over rote learning, this comprehensive model helps children develop skills they can really use. With this timely resource, educators and therapists will support children with autism as they enjoy more positive interactions, more effective communication, and higher academic achievement in natural, inclusive settings."--Publisher's website.

Cumpata, JoEllen. A quest for social skills for students with autism or asperger's : ready-to-use lessons with games, role-play activities, and more / Joellen Cumpata, Susan Fell. Future Horizons, Inc., c2010.
Description: With inclusive education becoming the norm in schools nationwide, teachers often struggle to address students' non-academic needs--but teachers need ready-to-use lessons that won't interfere with their curriculum. System requirements from CD-ROM: PC; Adobe reader; CD-ROM drive.